FRESH OFF THE ROAST,
STRAIGHT TO YOUR DOORSTEP.
Coffee @ Home
Want to experience Kicco coffee in your own home?
Try our exclusive range of signature blends through to our single origin coffees. We cater for all types of domestic machines and devices such as dripolators, stove-top machines and plungers. Our coffee is available in resealable 250g, 500g and 1kg bags.
Buy online or drop into one of our stores for a fresh bag or two!
Coffee @ Work
Do you have an automatic or manual coffee machine at work?
At Kicco we can deliver your favourite blend right to your office or worksite. If you have a plunger, stove-top, dripolator or an automatic machine, we cater for them all! Set up an account with us and have a regular supply at your work today!
Contact us to learn more.
A GREENER FUTURE
We've made a commitment to utilise
sustainable products, processes &
services wherever possible.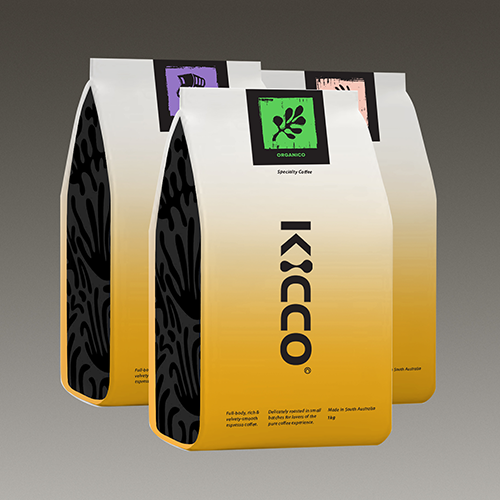 SHOP ONLINE
Need coffee delivered to your home
or office? Shop online today and
choose your favourite coffee!
100% BIO COFFEE CAPSULES
Kicco coffee capsules are now 100%
compostable & biodegradebale –
A greener bean, a cleaner future.
It's simple really – good things are made with the heart. Like a composer writing a symphony, or an artist creating a masterpiece. At Kicco, coffee is our art. And in a world where the good things are hard to find, we put the heart back into the daily grind.
Our coffee is so good because each part of the process gets our care and attention. From plantation, right through to the cup. For us it's not about formulas, figures or focus groups – it's about the experience. The experience of great coffee.
At Kicco, the process begins with the selection of superior beans from premium estates, but the real magic happens in the roast. Our beans are carefully handpicked and roasted locally in small batches. This special treatment is what makes Kicco coffee consistent, fresh and full of flavour.
Over the years Kicco have perfected the art of coffee with a selection of much-loved signature blends and specialty coffee. Allow us to share the espresso love affair with you.
ROASTING
What separates Kicco coffee from the rest?
The secret is in the roast. Our beans are roasted locally in small batches, allowing us to control the consistency, flavour and freshness of the coffee produced.
The roasting process begins with the best hand- selected beans that are sourced from premium estates globally.
OUR STORES
With six Kicco stores in SA,
you'll be sure to find us serving
sensational coffee and delicious
food options every day.
Head Office
Phone:
(08) 8384 1150
Email:
info@kicco.com.au
Fax:
(08) 8166 7129
Address:
Unit 1, 54 Cottage Lane
Hackham SA 5163